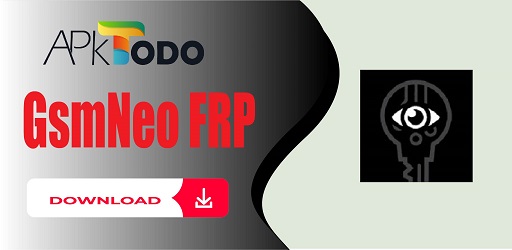 Download GsmNeo FRO APK to enjoy swift verification bypassing. Gain access to information, disable security and explore other features on your Android devices.
An In-Depth Description of GsmNeo FRP MOD APK
The Gsm Neo FRP mobile app is designed to enable users to reset their devices to the factory settings if the device's password has been forgotten. The app gives users the power to bypass the Android FRP protection. After the bypass, you can use your device without the initial key in registering it.
One of the perks of GsmNeo FRP MOD APK is that it has a complex process but is easy to use. The app can also be used on your Android devices. To start enjoying GsmNeo FRP, download and install it on your device and run the program whenever you're ready. Once you have done that, the FRP on your phone will be bypassed, and you will be granted access to your phone.
GsmNeo FRP MOD APK is an app majorly used by technicians or repair specialists. Users who do not possess a certain level of technical knowledge are advised to refrain from using the app. However, they may try it out by watching tutorials and following instructions.
To successfully access the GsmNeo FRP mobile, a reliable internet connection and a suitable Android device are needed. After that, you will be given a guide to help with the bypassing process on the device. You can use your device without restrictions once the process is completed.
Background Story of GsmNeo FRP
If you have been searching for a way out of your device with a lock screen on, you need an app that deals with ineffective bypass. Google protects a good majority of Android devices, and Factory Reset Protection (FRP) is the tool used to carry out this job.
This FRP locks a device and ensures that factory settings cannot be reset. A device's content can be wiped completely and left looking brand new if its password is entered by the user. But with FRP, no one will be able to or reset your device without your consent and password. The FRP act is geared towards preventing phone theft and resetting.
Everything that has an advantage also comes with a disadvantage. Hence, a disadvantage of FRP is that if the phone user forgets their password, they will be unable to access any phone function or even reset it.
GsmNeo FRP APK Mechanics
Features of GsmNeo FRP APK
Here are the features of GsmNeo FRP download:
It is easy to access and use
Although this app has some complicated processes, it is among the most straightforward app to use on your device. You can quickly get rid of any pin, pattern, or lock on your Android device within a certain amount of time. Also, the FRP lock on your phone can be bypassed easily. The app is a necessary tool for individuals who wish to maintain a secure and safe device. You do not have to pay to use the app because you can access GsmNeo FRP free. To begin, download GsmNeo FRP for Android using our link below.
It supports popular brands
The GsmNeo FRP supports major brands of Android devices. Its popularity has led millions of individuals to download the app. The app is compatible with devices such as Oppo, Huawei, Samsung, etc. It also supports popular Android versions such as Android 11, Android 10, and Pie 9.0, among others.
You will find the app interface friendly in these popular phone brands. You will be able to navigate appropriately if you follow the tutorial that comes with the tool. The tutorial is there to make things easy for you.
Supports a majority of Android devices
As a trending app used to bypass locks, GsmNeo FRP APK is supported by almost every Android device you know. If your Android device has been locked as a result of FRP lock, this app is your way out. You will find it easy to use.
So long as your phone is compatible with the app and your Android version matches, you can download the app and follow simple instructions to your device. Rather than looking for an app that matches your phone model and OS, get GsmNeo FRP and restore your device to factory settings.
It is mainly used by specialists
The process of resetting your device can be confusing and complicated, even with the help of an app that does the job. Even though GsmNeo FRP makes the process a bit bearable, thanks to the tutorial and interface, you must employ some technical knowledge. The need for technical knowledge is why the app is suitable for technicians and specialists. If you cannot get a technician, pay attention to the tutorial or find a simpler one.
How to use GsmNeo FRP APK
After you download GsmNeo FRP's latest version and install it, launch the login. Tap on the browser sign and get started with your Google account. After that, restart your device by holding the power button. The next thing to do is follow the steps you see on your screen. Once your account is added, the FRP is bypassed.
Conclusion on GsmNeo FRP APK
You can disable and bypass the FRP security on your device without its security code or password, thanks to GsmNeoFRP. The app comes with no ads, so you can enjoy smooth running without any interruption. GsmNeo FRP download is free on this site.