MADFUT 24 APK 1.3.2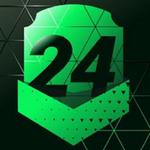 | | |
| --- | --- |
| Name | MADFUT 24 |
| Developer | Madfut |
| Category | Entertainment |
| Last version | 1.3.2 |
| Updated | |
| Compatible with | Android 5.0 + |
APK/Mod file request?
Join APKTodo's Telegram channel to get the best APK games, as well as the best experiences
MADFUT 24 APK is a free to play football trading card game that offers unlimited fun. Download today and start building your dream team!
About of MADFUT 24 App
MADFUT 24 APK is not just another game; it's a passion project designed for the 2023/2024 football season. Drawing its inspiration from FIFA's acclaimed Ultimate Team mode, it's more than a mere pastime—it's an exhilarating journey into the world of football. Players embark on an adventure where they collect cards portraying real football stars, harnessing the power of their stats, and creating their dream teams.
Every card you unveil connects you with the global football universe, revealing the player's name, league, team, and nationality. With each tactical decision, players find themselves immersed deeper into the realm of football, echoing the cheers of the stadiums and the strategic deliberations of real-world team managers.
Overview of MADFUT 24 Mobile Free
Stepping into the digital shoes of a football manager with MADFUT 24 is no ordinary experience. With real images of the current season's top players, the game promises not just gameplay, but an immersive, vivid journey through football's most iconic moments. As you venture deeper, challenges and tournaments await, offering the chance to clinch additional rewards, honing your squad to perfection. And just when you think you've seen it all, the MADFUT 24 APK play store introduces new cards, special events, and expansions, ensuring the game's freshness and continued appeal. Whether on a mobile phone or tablet, this game is designed to be taken on-the-go, delivering unparalleled football excitement wherever you are.
Some features of MADFUT 24 APK
Collect Real Soccer Players: One of the game's cornerstones, MADFUT 24 allows you to open packs containing real-world players from the most celebrated leagues. Each card offers insights into the player's career, detailing their name, team, nationality, and the league they grace.
Build a Custom Team: Unleash your inner strategist. Assemble and tweak your football team, positioning players according to your vision. Adapt and change tactics to ensure peak performance in every match.
Realistic Images: Elevate your gameplay with real images of the season's top football maestros, guaranteeing a tangible, genuine experience.
Challenges and Tournaments: Rise to the occasion. Engage in diverse challenges and tournaments, unlocking rewards and refining your squad. Outwit your opponents, conquer challenging missions, and amass an enviable collection of cards.
Player Trades: Dive into the dynamic world of player trades. Engage with other players, auctioning and bidding to enhance your squad.
Excellent Player Pack Objective: Fortune favors the brave. Try your luck, hoping to unveil stars like Erling Haaland, Mbappé, Bellingham, or even Messi. Remember, luck and patience are your allies in this quest.
Regular Updates: Stay engaged with regular injections of new content. From special events to fresh cards, the game promises enduring appeal.
Best Tips while Using of MADFUT 24 Download
Diversify Your Squad: Don't just focus on star players; a balanced team often performs better.
Engage Regularly: Frequent participation can earn you daily rewards and bonuses.
Strategic Trading: Don't impulsively trade. Think long-term and strategize to bolster your squad's strengths.
Engage in Tournaments: These can be gold mines for rewards and rare player cards.
Stay Updated: Regular game updates can bring surprises; always ensure your game is updated.
Pros and Cons of MADFUT 24 for Android
Pros:
Authentic Experience: Real images of players amplify the sense of realism.
Squad Flexibility: Total control over team customization.
Rewarding Challenges: Numerous challenges and tournaments boost the gameplay.
Dynamic Trading: Player trades add a strategic depth.
Consistent Freshness: Regular content updates ensure sustained interest.
Cons:
Luck-Dependent: Acquiring top players can sometimes feel like a game of chance.
Network Dependence: A constant internet connection is mandatory.
Time-Intensive: Building a strong squad can demand time and patience.
Design and User Experience
MADFUT 24 APK's design is a harmonious blend of aesthetics and functionality. With realistic player images, players are treated to a visual treat. The user interface is meticulously crafted, ensuring ease of navigation and intuitive gameplay.
Striking visual effects, accompanied by apt sound effects, craft a rich gaming experience. Statistical charts provide analytical depth, assisting in strategic decision-making. The unique card design, which juxtaposes player images with detailed info, exudes sophistication.
Conclusion
MADFUT 24 APK stands out not merely as a game but as a vibrant universe where football aficionados can live their management dreams. Combining realism, strategy, and a myriad of features, it offers an unparalleled experience, making it a must-have for any football enthusiast.