Indian Train Simulator Mod APK 2023.7.2 (Unlimited Money)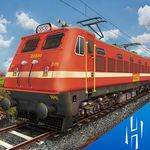 APK/Mod file request?
Join APKTodo's Telegram channel to get the best APK games, as well as the best experiences
Download Indian Train Simulator APK and travel through colors of India. The Indian Train Simulator mobile game offers the most immersive experience you can imagine.
Indian Train Simulator Mobile Overview
Start a second life in Indian Train Simulator mobile as the best railroad engineer in the Indian railway system. It is easily one of the best and top ten train simulator games available for mobile devices to date.
Indian Train Simulator captivates the users through its hyper realistic graphics and beautiful environments. There is a wonderful soundtrack in the background that makes the experience even better. If you ever wondered what it is like to captain a real train, then the closes experience to reality you can get is through the Indian Train Simulator APK for mobile.
This simulation game replicates the actual railway lines spanning India's most popular cities. When juxtaposed with reality, it's evident that the game mirrors true-life experiences. Thus, in Indian Train Simulator APK, you have the responsibility to ensure punctual train operations while adhering to all the railway regulations.
Bear in mind, there are repercussions for violating rules. One of the game's highlights is its dynamic camera angles, providing a more immersive experience. Furthermore, the game boasts intuitive controls paired with an exceptionally user-friendly interface. Players have the flexibility to tweak the controls according to their comfort, optimizing their gameplay experience.
Indian Train Simulator APK Full Description
Indian Train Simulator APK is part of the train simulator game series developed by Highbrow Interactive. You might know these developers from their other incredible work such as Indonesian Train Simulator, Euro Train Simulator, etc., Just like that, Indian Train Simulator Online is a railway simulator game based on India in this version that recreates all the real-life locations and railway tracks. Even the NPCs are precisely designed to look exactly like the normal population of India.
The Indian Train Simulator mobile game offers absolute management of different types of trains, cargo destinations, passenger destinations, and depending on your decisions, you will be assigned different tasks throughout the game.
Moreover, the best part of the game is its 3D realistic graphics. From the train to the environment, everything is made with great detail. If it wasn't for the on-screen controls, you'd feel as if you are watching a real footage of a train. Indian Train Simulator APK offers various els of trains that you can choose from. You can expect well over 50 types of trains, these will include underground trains as well as toy trains for children.
Similar to its peers, the Indian Train Simulator offers only perfection and nothing less. If you ever dreamed about becoming a train captain or driving a hundred of meters long machine, then manifest your dream in this game.
What's Different from Indian Train Simulator Old Version?
The Indian Train Simulator old version was beautiful as is but just as any other apps, it too was in development and improvement phases. There were a few known bugs that have been fixed in the latest version to deliver an even smoother experience. The graphic quality has been further improved and new limited items and events are included in the latest version.
If you're on an older version, consider updating. Being an online competition platform, staying updated ensures you compete on an even ground with fellow gamers.
Play Indian Train Simulator Online
Indian Train Simulator can be played online. It is just one of the many fun-filled es offered by the game. There is also a leaderboard system and achievements that track your progress. The best train captain in the world will be ranked on the leaderboard.
You can complete various missions, challenge other players from around the world to earn rewards and points. The points you acquire from winning and competing against other players counts towards your ranking.
The game is already way too realistic and the multiplayer online e makes it a hundred times better.
Indian Train Simulator Gameplay
As the name gives it away, Indian Train Simulator gameplay is centered on India. This includes the geographic locations, terrains, and even the people. All your passengers will reflect the Indian culture perfectly.
The behavior and work times will also be similar to those in real life. You have to take good care of the passengers as they can leave feedback about their journey with you. Throughout the game, you will be travelling to different train stations in India.
Engaging continuously with the game will unveil numerous rewards, enabling you to personalize your train. With more than 25 camera perspectives, players can document their gameplay distinctively and attractively.
Download Indian Train Simulator for Android Story e
When you download Indian Train Simulator for Android, you can go for the story e. This e is single-player and you can drive your train through different stations as the game continues to assign you tasks.
Based on your decisions, you will receive new assignments and rewards for completing them.
Indian Train Simulator New Update
The Indian Train Simulator new update includes a completely realized track-shifting function. There's a beautiful full-featured signal system that you will notice while playing the game.
When the track is blocked, you will have to wait at the red signal until it switches to green. You can even take advantage of a create a message system to alert on all in-game activities.
Transitioning from Indian Train Simulator to The Sims FreePlay is seamless for simulation enthusiasts, offering another rich environment to explore and conquer.
Final Thoughts - Download Indian Train Simulator Online Latest Version
If you are a true railway enthusiast then download Indian Train Simulator online latest version to live your life as an amazing railroad engineer. Indian Train Simulator APK dominates its genre thanks to its incredibly realistic graphics and the environment that's designed to resemble real locations.
The physics of the game has been perfected so that it almost feels like as if you are captaining a real train. Indian Train Simulator APK truly captures the colors of India in this game and takes you on a beautiful journey across numerous train stations.