Castle Crush Mod APK 6.3.2 (Unlimited Money)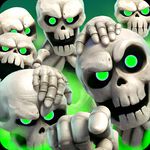 APK/Mod file request?
Join APKTodo's Telegram channel to get the best APK games, as well as the best experiences
Download latest version of Castle Crush APK for free and start playing today! Build, collect and upgrade your cards to destroy your opponent's castle!
Introduction to Castle Crush Apk
Castle Crush apk is an extremely captivating strategy game developed by Fun Games. As we know, strategy and role-playing games are the two genres that many gamers love and choose. Amazingly, Castle Crush has managed to combine both elements, making it genuinely irresistible to anyone who tries it even once.
What sets Castle Crush Apk apart? Several factors contribute to its uniqueness. For starters, it offers a straightforward gaming experience, suitable for those unfamiliar with mobile strategy games. Picking up the fundamental rules of Castle Crush apk is a breeze. Furthermore, its balanced gameplay ensures that no single tactic prevails consistently. Players are encouraged to experiment and determine the best approach for different scenarios.
Castle Crush Online being a strategy-centric game emphasizes the importance of tactical planning. Players are tasked with the clever arrangement and deployment of cards, aiming to outwit their adversaries for the win. Each time a character's abilities are activated, a specific MP amount gets depleted.
It's essential to note: More powerful warrior cards with advanced skills will drain more MP. Thus, players must consider and plan their moves, as regaining the used MP takes time. Running out of MP or failing to strategize correctly could provide an opening for the enemy to strike your fortress.
At the onset of the game, players are given 3 MP. Drawing a card boosts your MP by one. Interestingly, regardless of how many cards you draw in a single round, it's still counted as one move. The game has an MP cap of 10, so it's advisable to strategize and deploy cards efficiently, maximizing your warriors' potential.
Graphics and Setting of Castle Crush apk
While Castle Crush only has 2D graphics, it should not be underestimated. This was a perfect choice to build in a cute world accompanied by fun chibi cartoon characters.
Castle Crush apk introduces a world unlike ordinary animated films; it contains skeletons with dark castles full of monsters and demons. The game is depicted delicately, and the harmonious combination of bright colors brings an exciting and fresh feeling when playing.
In fact, the warriors in Castle Crush Apk are designed in a 2D graphic format, with the shapes of cartoon characters and a variety of bright colors. Thus, you won't feel too scared when playing; instead, the game will give you a fresh feeling that no other game can provide.
Key Features in the game:
Card Battles: Similar to other games, players must use their cards and arrange them effectively. Calculate and use your skills to control your card soldiers, attack the opponent, and achieve victory.
Strategy – The Key Feature: As mentioned, players need to choose the right soldiers in various situations, overturn the odds, and win. Try to open the card and upgrade your warrior's strength as early as possible.
Over 40 cards with various hidden powers: There are 40 different cards available in the game with unique inherent skills for you to collect and strategize. Cards are divided into two main types. The first type releases warriors with certain strengths, and the second type provides magical power to enhance the lineup.
Don't forget to gather an abundance of cards, irrespective of their kind. The optimal approach to this is through devising strategies that lead to victories and demolishing your opponent's fortress. Notably, when you bring down an adversary's castle, enticing rewards await you, along with frequent card updates from the developers.
Conclusion
For those in search of an engaging and challenging mobile strategy experience, Castle Crush Apk is a top pick. Even beginners to the mobile strategy realm can easily dive in and get the hang of it in no time. With new content consistently being introduced, there's no chance for monotony. So, why wait? Dive into Castle Crush and immerse yourself in castle-toppling action!
For enthusiasts drawn into the riveting story arc of Castle Crush, Kingdom Rush offers another compelling tale interwoven with strategic challenges that promise to captivate your imagination.