Smoq Games 24 APK 1.95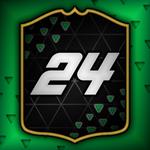 APK/Mod file request?
Join APKTodo's Telegram channel to get the best APK games, as well as the best experiences
Dive into the exhilarating world of football with Smoq Games 24 APK! Build, customize, compete. Your ultimate team awaits. Download now and start the action!
About of Smoq Games 24 APK
In today's digitized age, games have transitioned from mere entertainment to a medium that can emulate real-world experiences. One such digital masterpiece is the Smoq Games 24 APK, primarily tailored for football aficionados. At its core, this application is not just a game, but an immersive experience that elevates team management to unparalleled heights.
Its vibrant animation effects combined with unique features ensure that players are kept engaged, returning to the game's universe time and again. As football is a game that thrives on passion, Smoq Games 24 ensures that every player feels the adrenaline and excitement, similar to what a real-world football manager would experience.
Overview of Smoq Games 24 Mobile APK
Stepping into the virtual football world of Smoq Games 24 APK, players are granted a spectrum of opportunities. From indulging in online tournaments that boast innovative match effects to showcasing your prowess to a global community of gamers, the avenues are endless. Additionally, the application's in-game economy facilitates buying and selling player cards in the transfer market, thereby helping players bolster their team or amass assets. One of the stand-out aspects of this game is its emphasis on customization. Whether you're crafting your own footballer, designing an iconic jersey, or conceptualizing a stadium, Smoq Games 24 APK offers all the tools to make your vision come to life.
Features of Smoq Games 24 APK Latest Version
Card Pack Opening Animation Effect: An interactive experience where players can open card packs with spectacular animation effects, enhancing the excitement of discovering new player cards.
Collect Cards and Badges: A vast collection of player cards and badges await, letting players build an enviable repository.
Build the Ultimate Team: Strategically open card packs to refine your squad and craft a team with unparalleled combinations.
Online Tournaments: Engage in online battles, compete with peers, and showcase your football genius to a worldwide audience.
Transfer Market: A dynamic marketplace where players can either buy or sell player cards, either to strengthen their squad or to accumulate in-game currency.
Unique Customization: A feature that stands out, allowing players to mold players, jerseys, and even stadiums, reflecting their style and preferences.
Daily Doses of Fun: With mini-games and daily rewards, the game ensures that players have fresh challenges to tackle every day.
Best Tips while Using/Playing of Smoq Games 24 for Android
Strategic Pack Opening: Instead of impulsively opening card packs, have a strategy in place. Know the kind of players you want and target those packs.
Engage Regularly: Regular participation ensures you don't miss out on daily rewards and keeps your squad in top form.
Join an Active Community: Engaging with other players can offer insights, tips, and tricks that can be invaluable.
Pros and Cons of Smoq Games 24 Download
Pros:
Variety: The game is endowed with a plethora of features ranging from card packs to tournaments, ensuring that players always have something new to explore and experience. This diverse range of features ensures that the gaming experience remains fresh and invigorating.
Engagement: Through its dynamic animations, exciting card pack openings, and myriad of challenges, the game keeps players hooked. The suspense of what the next card pack will unveil or how the next match will unfold keeps players on the edge of their seats.
Community Building: The game's online tournaments not only provide a competitive platform but also cultivate a sense of camaraderie among players. This interactive environment helps in fostering relationships and sharing strategies, tips, and tricks with fellow gamers.
Deep Customization: One of the standout features of Smoq Games 24 APK is the depth of customization it offers. From creating players with distinct characteristics to designing a one-of-a-kind jersey or constructing a dream stadium, the game allows players to imprint their unique identity.
Cons:
Time Commitment: To truly excel and make the most of all the features, players may find themselves investing a considerable amount of time. Building the ultimate squad, mastering the transfer market, and climbing the ranks in online tournaments can be time-consuming.
Internet Dependency: A significant portion of the game's features, such as online tournaments, require a stable internet connection. This can limit the playability in areas with poor connectivity.
In-App Purchases: The presence of in-app purchase options might pressure some players to spend real money, especially when trying to accelerate progress or acquire exclusive player cards.
Learning Curve: With its multitude of features, new players might feel overwhelmed initially. It can take time to grasp the game's intricacies, especially for those unfamiliar with football management dynamics.
Design and User Experience of Smoq Games 24 free
The design aesthetics of Smoq Games 24 APK are meticulously crafted to cater to the modern gamer. Detailed player images, realistic animation effects, and intuitive statistical charts offer an immersive experience.
The user interface, characterized by interactive controls and menus, ensures even a novice can navigate with ease. The game also prioritizes match effects, making each online encounter thrilling and unpredictable.
Conclusion
Smoq Games 24 APK is more than just a game; it's an expedition into the enthralling world of football. The vast array of features, coupled with an intuitive design, makes it a must-have for football enthusiasts. So, gear up, strategize, and dive into the realm of virtual football management!