Kick the Buddy Mod APK 2.1.1 (Unlimited Money)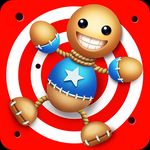 APK/Mod file request?
Join APKTodo's Telegram channel to get the best APK games, as well as the best experiences
Kick the Buddy APK is the ultimate stress relief game. Download now and have fun beating up a ragdoll with unlimited gold, and weapons.
In-depth Description of Kick the Buddy APK
The Kick the Buddy APK presents a smashing and striking gameplay experience, allowing participants to engage in hitting, slapping, punching, and outright demolishing the character known as the "buddy." The very title of the game gives a clear indication of its premise. Within this gaming realm, the "buddy" in question takes the form of a brown rag doll, inviting players to relentlessly pound it using a variety of implements, firearms, explosives, and more.
This unique game, Kick the Buddy, made its debut on the Google Play Store on the 22nd of May, 2018. Since its initial launch, the game has amassed over 100 million downloads from a global player base.
Kick the Buddy APK provides players with ingenious and unique ways to attack the mobile doll on their screens. Players get to choose from multiple weapons such as Molotov cocktails, grenades, guns, mini rockets, etc. When playing the game, it is almost as if the weapons and means of attacking and torturing the "buddy" are endless.
Not Suitable for Younger Children
Kick the Buddy APK is a violent game aimed at killing a rag doll. Regardless of the fact that players attack a rag doll, not a human or animal, this game is still considered quite violent, especially for younger children.
The game's developers put the recommended age of players as 12+, but even then, younger players and their parents should be cautious of how often they play the game.
Controls
Kick the Buddy APK relies on you, the player, controlling weapons to attack and decimate Buddy. The game provides various means of controlling the weapons. You can pinch the weapon, whether it be a shark, a meat grinder, or something else, and hurl it at Buddy. You can also grab the weapon directly and use it to attack Buddy.
Another means of controlling weapons to attack the rag doll named Buddy is by throwing objects at the wall, knowing that they will bounce back and hit the rag doll. You can also drag Buddy to whatever position you want so that you can launch different weapons at it.
Daily Log-In Benefits
Like many mobile games nowadays, Kick the Buddy APK provides benefits for users who log in every day. Players who log in daily to play Kick the Buddy gain free in-game currency, which they can use to buy new weapons.
As part of the daily login rewards, the game typically bestows players with in-game currency, referred to as "bucks." Additionally, participants also have the chance to acquire an array of weapons like X-rays, a Torch, and even a Snail. Fortunate players might even find themselves receiving a modest quantity of gold as a bonus upon logging in, which can be utilized to procure premium weaponry. It's worth noting that, aside from this login bonus, gold can exclusively be obtained through real currency transactions. By consistently logging in for 15 consecutive days, players can amass a minimum of 5,000 bucks.
Unique Features of Kick the Buddy
Arsenal of Weapons. The best part about playing Kick the Buddy is that you have an endless supply of weapons with which you can attack Buddy. Kick the Buddy APK comes with various weapons, ranging from offensive weapons that can be used in warzones, to everyday objects, to animals like sharks.
You can choose to stab or punch the rag doll or throw weapons like grenades, missiles, and Molotov cocktails at Buddy. The game even allows you to use a combination of different household objects to attack Buddy, the rag doll.
Earn Money by Destroying Buddy. You can earn in-game money by defeating and killing Buddy. However, if you have already killed Buddy and continue to attack him, you will not make any money. Kick the Buddy has a lot of weapons, but most are not free and require players to pay with in-game or real money. Thus, you can buy additional weapons with the money you earn by destroying the rag doll. Sometimes, if you have been using the same weapon to attack Buddy, you stop making as much money; this means you should switch to a different weapon.
Purchasable Blood. To dial down the game's extremely violent aspects, the developers of Kick the Buddy did not add blood to the game's free play. However, players have the option of adding blood effects to the game by purchasing it with real money. This premium feature is not advisable for younger players, as this makes the game more realistic and violent.
Free Stuff. Kick the Buddy has a "Stuff" menu where players can buy weapons and other stuff to attack Buddy. Some of the weapons in that menu have a "Free" sign, and you can pay for them without spending gold or in-game bucks.
You can watch ads, invite friends to play the game through a unique link for your account, or follow the game's Instagram account - these will the weapons free of charge. You can also cheat the game and invite yourself by entering your email thrice; this will also the weapon for free.
Physics-based Game. Like most ragdoll games, Kick the Buddy APK is a physics-based game, so Buddy's reactions will be in line with whatever actions you take. Kick the Buddy does not have the typical control settings in other games. There are no visible circles to aid in moving the rag doll, so players have to devise their own ways of hitting the doll. Go ahead and attack Buddy with different weapons and watch how it would react!
Conclusion
We all need an outlet to let loose and free ourselves of stress, worry, and anxiety. Kick the Buddy APK is an unusual but very helpful game that helps you get rid of your stress by taking it out on a virtual ragdoll.
Download Kick the Buddy APK today if you have no problem with slightly violent games that are entertaining and help you pass the time. While you play, remember that this game is not suitable for children, so you should not let children around you play it.
Suggestion: After satisfying your entertainment preferences with Kick the Buddy, proceed to embrace new challenges from the Worms Zone APK game here.