Grow Empire Rome Mod APK 1.37.2 (Mega Menu)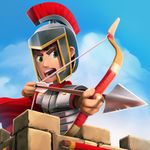 APK/Mod file request?
Join APKTodo's Telegram channel to get the best APK games, as well as the best experiences
Enchanting and captivating is all we can say about Grow Empire. This game is developed by Game Station, publisher of Art of War 3. It is a combination of strategy mechanics, tower defense and role-playing elements. With this considerable variety, the game has achieved an impressive number of 10 million downloads. Players will not quickly get bored because of the extremely unique game e of this game.
Overview of Grow Empire
When delving into the latest installment of Grow Empire, you assume the role of a leader, guiding your army to seize control over neighboring provinces. Simultaneously, safeguard your territory against formidable adversaries like the Carthaginians, the Iberian barbarians, and the Etruscans.
Becoming a hero and leading a vast army to defeat other extremely solid legions is a feeling of heroism that you have never had before. So let's see what this game is all about right now and why it has become the way it is all over the world!
Build a mighty army
In many strategy games like this one, maximizing the effectiveness of your soldiers is paramount. Make sure to upgrade them consistently to enhance their capabilities. Remember, your army encompasses four distinct types of soldiers.
Spearman: they're good for defense and they're designed with combat bonuses in mind when fighting cavalry. Your team can't be without them.
Archers: this will be your main defense when they side with the wall in battle. Besides, they possessed combat rewards compared to spearmen, so they were really needed.
Swordsman: Considered as the foundational unit in your army. They serve as a linchpin, excelling in both offensive and defensive strategies without pronounced weaknesses. Nevertheless, they lack special bonuses when facing certain enemy units.
Cavalry: the horse will punch directly and make a hole through any enemy line. They are the first in your army due to their deadly effectiveness.
Thanks to their maneuverability and speed, they can attack from behind, from the flanks and deliver devastating results. Moreover, you can use them against archers.
In general, you should upgrade each type of soldier equally so that your army has a balanced strength. And when you reach the max upgrade level of 10, your troops will be much more effective in siege battles.
Buy many necessary items in the store
The store in Grow Empire Mobile is quite simple. Here you can purchase more crystals for your card and commander needs. For those willing to spend your money on this game, you can buy some crystal packs. They are not expensive and you can unlock heroes. It depends on your needs.
Stunning visuals and mesmerizing sound
Download the latest version of Grow Empire which is designed with precise 3D visuals that you can experience through the action sequences or dramatic battle scenes. During the game, you will be provided with a map full of sharp 3D graphics without interfering with the game.
In terms of sound, it seems to be carefully invested in the medieval battlefield style. Besides, each type of map will have different sounds. For example, if you play blizzard battle, you will hear strong winds with natural timbres that give you more motivation to conquer challenges. In addition to those factors, you also hear the sound of weapons, the sound of elephants galloping, making players even more fascinated and excited.
Tips to play Grow Empire APK
Below are some invaluable tips for novices.
Accelerate the battle process: Should you wish to hasten the battle duration, utilize the 'Play' button situated at the upper part of the screen. This feature proves beneficial when you prefer not to endure long wait times. This functionality bears resemblance to the auto-battle feature inherent in Grow Empire.
Watch ads to earn more gold: every player doesn't like ads. But watching them is actually a great way to earn some gold, especially when you're running low.
Invade colonies for gold: conquering territories is another way to earn more gold. You know that you build an empire not for fun, so you must always be ready to conquer and claim as much gold as you can.
Conclude
Grow Empire Online stands as an accessible and non-resource-intensive game suitable for Android devices. It not only permits a smooth download and gaming experience but also caters to youngsters aged ten and above due to its delightful and age-appropriate content. Therefore, it offers parents a trustworthy platform to facilitate wholesome entertainment, nurturing both the mental well-being and security of young players. This game distinctively merges three gaming styles encompassing RPG, strategy, and tower defense, promising an unforgettable gaming journey that you wouldn't want to miss!
While Grow Empire Rome APK might cater to beginners in strategy games, Game of Warriors APK ramps up the difficulty, offering a complex and rewarding experience for veteran strategists.