Bombitup Mod APK 4.2 (Unlimted SMS)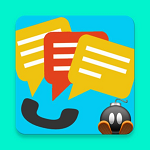 APK/Mod file request?
Join APKTodo's Telegram channel to get the best APK games, as well as the best experiences
BombitUp APK is a free-to-install mobile app that allows individuals to bomb anyone with SMS. The BombitUP software makes it simple to bombard any preferred cell number. To begin blasting, add whatever contact info you wish to annoy. You might need a few minutes to finish your blasting. Before the bombing, individuals must add whatever cell number they choose. Download the app on your mobile devices to start enjoying some bombing.
An In-Depth Description of BombitUp
The act of pranking has become a norm, but individuals should be able to differentiate between a healthy and a dangerous prank. Several applications on the internet help individuals play pranks on their family and friends with ease. This BombitUp APK app makes pranking much easier for those interested in pranks. The app helps you conveniently prank whoever you choose without any restrictions.
It is really fun carrying out pranks without any harm, irritation, or shocks. BombitUp online lets individuals send emails and messages without limit. These blasts are sure not to cause damage to your device as multiple options and features are waiting to be explored. Send SMS and make it difficult for the pranked person to use their mobile device.
After you finish computing, a lot of SMSes will start arriving at the relevant contact number. A benefit of this BombitUp old version and new is that using it comes with no cost. Additionally, this text messaging & Call blasting program does not contain any annoying advertisements of any kind.
Comparing this to several SMS Bombing applications, the BombitUP software employs an identical technique for blasting mobile numbers. The inputted cell number would be used by this software to submit it to numerous websites that can produce phony OTPs without requiring enrollment. Users can effortlessly play a practical joke on a colleague by flooding their phone with a large number of OTP SMSes in a brief period.
Users can safeguard their email, cellphone number, and others with BombitUP's latest version. There are certain limitations, yet it is practically free. To receive positive texts, users could have to confront the tasks. Users might need to view certain surveys and adverts. We only distribute the most recent BombitUP for Android (v4.06.2) in order to prevent interference with the creator's development workflow.
Users must consent to accept responsibility for anything related to this program if they utilize BombitUP for their objectives. The creator disclaims responsibility for any damage users do while using this APK. Try not to panic excessively, though, as you are aware that these jokes are constantly entertaining and harmless.
Features of Bombitup
Check out the fantastic features of Bombitup:
Carry Out Exciting Pranks
With a mobile phone, individuals can currently take advantage of a lot of things. You can download plenty of applications because they are widely available and entertaining. Some even come with no cost so that you won't be charged. Users could enjoy playing practical jokes on their loved ones with specific applications. However, one software that sends several texts to all, irrespective of where they are, is BombitUp Android.
For individuals that want to text their friends and family numerously and simultaneously, the BombitUp app makes it easy. Here, individuals can deliver texts using the application discreetly to avoid implicating themselves. Today, users can utilize the application for whatever nation and whatever contact info. You are able to choose the text, the waiting period, and the quantity of SMS to deliver. Playing this innocent joke is ideal for those who intend to have good times. It's quick, easy, and fun.
Using Protection to Guard Your Contact Info
The "Protection List" of BombitUp online is an unusual feature. Nobody will taunt you or harm you. You can secure your email address and telephone number by including them here on the "Protection List." You could accomplish this by tapping on the three-bar icon on the top left side. The functionality list under the Protection List area contains a number of options. By hitting the icon and completing the necessary fields, users can input their details. To start the protection procedure, click Protect Me.
Call Blast and Pinger
Like the bomb feature for SMS, users can employ the BombitUp application for prank calls to whomever they wish. Individuals will have the power to tease and make their receivers uncomfortable when they make prank calls. To make random jokes, turn to the app's pinger feature. Users can create as many missed calls as possible to spark anger and curiosity from your receiver. They would have no idea who did it.
How to Install BombitUp?
Downloading and installing BombitUp on your gadgets could be easy if you follow the steps below:
For BombitUp download, go to our site and click on the link that follows.
Once the download is complete, locate the file in the folder that is mostly in your phone's file manager.
Lookout for your download folder and search for BombitUp.
Tap the file to install it on your mobile device.
Before installation, you might get a popup that requires you to permit installation. Tap on it and allow the installation.
After this, find your way back to the installation and tap the install. After a while, your installation will be complete.
Final Thoughts
Enjoy flexibility when you get the BombitUp app download APK. This app permits individuals to adjust their SMS delay and customize texts. Stir up emotions with your victims and make them curious when you use BombitUp free of charge.