eFootball 2023 Mobile APK 8.2.0 (Mobile)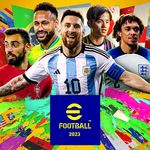 APK/Mod file request?
Join APKTodo's Telegram channel to get the best APK games, as well as the best experiences
eFootball 2023 APK Mobile is the latest version of the famous football game. Download for free and experience the best soccer gameplay on your phone.
Introducing eFootball 2023 mobile football game
When thinking of top-tier football games, PES swiftly comes to mind, alongside FIFA. Produced by KONAMI, this game has seen tens of millions of downloads solely from the Google Play Store.
For soccer game enthusiasts, this one is a sure bet. The gameplay is riveting with console-quality graphics, and it boasts live updates on player statistics in line with their global ranking.
For the die-hard football aficionado, this game has all the bells and whistles. Construct your dream team and compete with players globally to clinch the championship, elevating your team and fanbase to legendary status.
Football online
True to its name, eFootball PES 2023 APK zeroes in on online and multiplayer gaming. Don't expect to compete with a computerized opponent here.
PES's core philosophy has consistently been about delivering an unparalleled football experience. This is only possible when competing against actual people in real-time, emphasizing the importance of a stable Wi-Fi connection for this game.
Great new features
With eFootball 2023, you will really be able to take advantage of the unique skills and playing styles of each of your players. It's all thanks to improvements in ball control and the way you manage your players. Building the right team has never been as important as it was in PES 2023.
There is also a new style of dribbling developed with Spaniard Andres Iniesta. These new features are all related to how you control the ball and the idea is to make each player more unique and special. This adds individuality to the player and thus makes you feel they are more valuable.
Inspire - Your players can now also inspire the rest of their teammates and influence their playstyle during a match. This makes every match more real and means your players are now much more valuable to you than in previous mobile soccer games.
European Clubs – In PES 2023, licenses for new European clubs were acquired, including the likes of Manchester United, FC Barcelona, and FC Bayern Munchen. This means you can now engage with more football legends and bask in a more enriching gaming experience. Additionally, a plethora of national and international tournaments have now been incorporated into the game, giving you more avenues to craft your dream team.
Featured Player - Players who deliver standout performances over a weekend find themselves spotlighted as the featured player the subsequent week. These players come with enhanced skills, making them more sought-after. Anticipate a parade of exceptional players each season.
Console Graphics - The game scores high on rendering a lifelike mobile experience. The graphics are easily on par with console games, immensely enhancing the overall gameplay. With meticulous attention to detail coupled with splendid rendering and shading, you'd feel as if you're at the heart of the action, making those critical passes. It's akin to live-streaming a match on your mobile!
Conclude
Can't miss this great soccer game if you love sports. eFootball 2023 APK brings classic football matches along with premier leagues with the presence of many famous players around the world. Realistic simulation, optional gameplay ensure you will enjoy this amazing game.