CSploit APK the leading network analyzer on Android. From features to tips, dive into the world of ultimate mobile security. Download now!
About cSploit App
cSploit is hailed as the foremost toolkit for IT security experts and enthusiasts operating on Android. It is the evolved version of the well-known dSploit, carrying forth its legacy and establishing its strong foothold in the mobile security domain. Designed to provide a professional-grade IT security experience, cSploit aims to offer IT professionals a comprehensive suite of network analysis tools on their mobile devices.
Overview of cSploit Free
When diving into the world of mobile network analysis, cSploit emerges as a true game-changer. It's not merely an app; it's a compact powerhouse loaded with functionalities. Whether you want to map your local network, crack passwords, or exploit known vulnerabilities, cSploit has got you covered.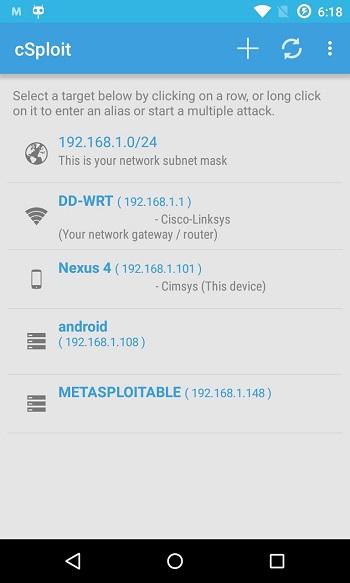 Its user-friendly interface, coupled with its vast range of tools, makes it a must-have for every IT enthusiast. With cSploit, professionals can conduct network analysis on-the-go, ensuring that security is maintained at all touchpoints.
Some key features of Csploit APK
Network Mapping: Identify all devices on your local network, understand their operating systems, running services, and open ports.
Vulnerability Finder: Analyze network devices for known vulnerabilities. With its extensive database, cSploit can pinpoint potential weak spots, allowing you to fortify your defenses.
Login Cracker: Forget saved passwords? cSploit can assist in retrieving passwords across various protocols.
Packet Forging: Craft custom packets and interact with your network in innovative ways. Test defenses, protocols, and more.
Man-in-the-Middle (MITM) Attacks: A suite of MITM tools lets you intercept traffic, modify data on-the-fly, and more. Note: Ethical use is crucial.
Traffic Sniffing: cSploit's built-in sniffer allows you to capture data packets, offering a granular view of your network's data transmission.
Session Hijacking: With this, users can potentially take over sessions, accessing sites and platforms as though they were the original user. This is especially useful for understanding potential security flaws in web applications.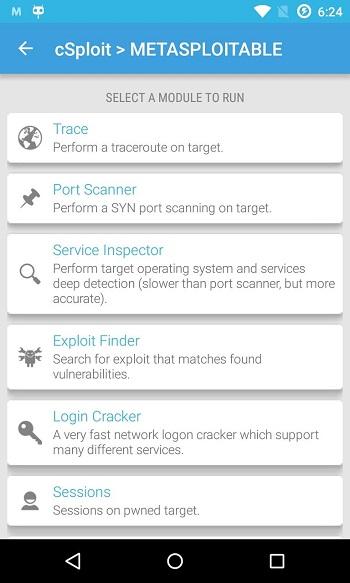 Script Injection: Customize your analysis by injecting your own scripts into web pages, making it possible to identify potential areas of exploitation.
Best Tips while Using CSploit Mobile
Stay Ethical: While cSploit offers a myriad of tools, always ensure you're operating within ethical and legal boundaries.
Regular Updates: To maintain security integrity, always keep cSploit updated. New vulnerabilities emerge daily; stay a step ahead with updates.
Network Safety: Only run tests and analyses on networks you have permission to use.
Backup: Before making any significant changes, always backup your configuration and settings. This ensures that you can always revert to a previous state if necessary.
Use in Controlled Environments: If you're practicing, it's recommended to set up a controlled environment like a lab. This avoids potential mishaps on live networks.
Stay Updated: The realm of IT security is dynamic. By participating in online forums and communities, you can stay informed about the latest vulnerabilities and mitigation techniques.
Pros and Cons CSploit Latest Version
Pros:
Comprehensive Tool Suite: From vulnerability assessment to password cracking, cSploit offers a diverse range of tools.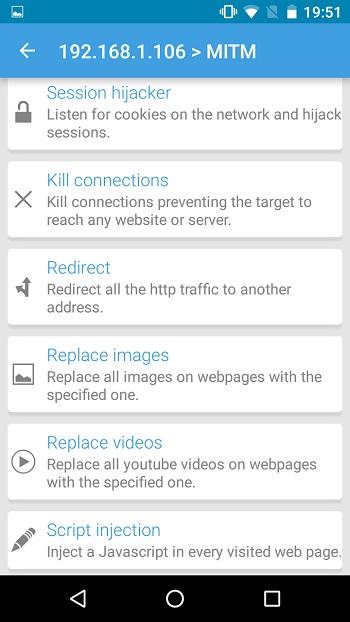 User-Friendly Interface: Designed for both novices and professionals, ensuring a smooth user experience.
Open Source: cSploit's transparency ensures that its community can contribute, leading to faster improvements and bug fixes.
Community Support: With an active online community, help is often just a click away. Whether it's a feature query or a bug report, the community is always ready to assist.
Cons:
Steep Learning Curve: While it caters to all, beginners might find some features overwhelming.
Battery Consumption: Being a robust application, cSploit can be demanding on your device's battery.
Requires Rooted Devices: To utilize cSploit to its full potential, your Android device must be rooted, which may not be ideal for all users.
Advanced Features Overwhelm: The myriad of tools can sometimes prove too much for beginners. It's essential to pace oneself and gradually delve into its various utilities.
Design and User Experience
Navigating cSploit is a breeze. Its dark-themed interface ensures minimal strain on the eyes, especially during extended use. Icons are strategically positioned, allowing users to swiftly transition between tools. Responsive and intuitive, it's clear that user experience was a top priority during its design phase.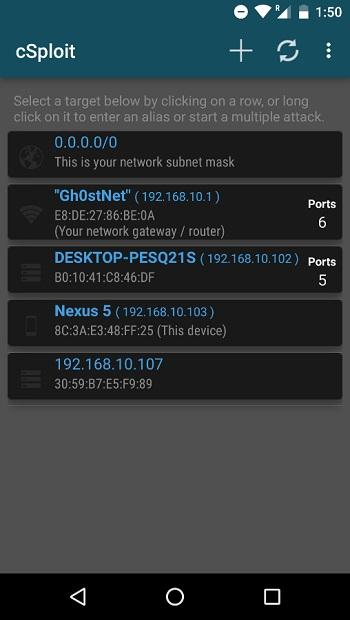 The minimalist design ensures that users aren't overwhelmed despite the app's vast functionalities. There's a dedicated section for tutorials, guiding newcomers through the platform's complexities. Every tool comes with a brief description, ensuring users understand its purpose and application. The responsiveness of the application is impressive; there's minimal lag, even when running resource-intensive operations.
Conclusion
CSploit, without a doubt, stands as an emblem of what mobile security tools should aspire to be. Combining power with simplicity, it paves the way for IT security on mobile devices. Whether you're a seasoned professional or just starting in the realm of IT security, cSploit is an indispensable asset. Dive into its world and revolutionize the way you perceive mobile network analysis.